My experience of learning CCNA to CCIE
---
|

Posted on: 2019-09-26

|
Views: 294
|
Category:
---
When I 1st learned CCNA, I used to be a bit frightened, as a result of once I 1st learned regarding the configuration manual and study guide, it absolutely was simply plenty of commands and
some knowledge that needed to be understood. After learning CCNA, I start the CCNP curriculum, which is harder than CCNA, also need to spend more time.


When I started to learn CCNP, my learning is poor, CCNP is more experimental than CCNA, and because my naughty often fail, so the completion of the experiment also, needless to say, at that time I also signed up for SPOTO BOOTCAMP classes during the summer.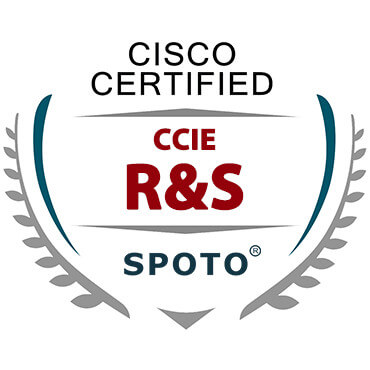 Now think back to the BOOTCAMP course at the time is still very useful, such as the project drill course, we are divided into 4 groups, the project bidding simulation, during the learning how to make PPT, draw network topology, etc., these will be used in corporate work, There are also some very useful courses in AAA, ACS, IOS upgrade, device password recovery and so on.


When I finished the BOOTCAMP course, I took the CCNP certificate in the third year of my junior year, and then I left the university for an internship. During this period, I interviewed several companies, but I did not go because of the low salary. In March, after I return from Shenzhen to Fujian, formally started in Fuzhou CCIE study course, first of all, I said I'm CCIE study method, I was a full-time study, there is a lot of learning time, in every time before class, I will go over the CCIE thematic teaching video, and using the word record notes, write down do not understand the problem first, and then ask the teacher.


It took me about eight hours to practice the version for the first time, and I had to say it was a bit of a blow to my confidence, but I didn't give up, so I typed it almost twice a day, and it was a little bit slow at first, almost always until about two o 'clock in the middle of the night, sometimes even longer. In this way, after about 16 practices, I could control the version time to about 3 hours only based on the demand. Some people may worry about the 3 hours for a long time.


In fact, most of the examination rooms area unit preconfigured.

For TS on this, my conclusion is: follow the teacher's training video is no problem, if you can in a few minutes, the test is no problem, the teacher training has been contained all possible fault point, anyway, that's what I do, one thing to note is that never rote learning, be sure you understand!


After more than a month of hard work, I finally went to the examination room. A few days before the examination, I did not do any more exercises.

I simply watched the examination space feedback and picked up info

The change was not very big.

The fault designation modified, but my teacher gave Solved, the teacher is very powerful.

The day of the communicating was conjointly terribly sleek.

There was no change. It was similar to what I usually practiced. The version I was pumping was H3, and I finally got my CCIE number.
Related Articles
How Long to Pass CCNA certification exam
Cisco benefits! Cisco has released the available CCIE LAB Exam for you
Which track of CCNA is easier to pass