Is AWS certification exam hard?
---
---
Before someone tells you how hard getting the AWS Certification is, you need to know what is AWS certification first.
AWS Certification is a certification system launched by Amazon AWS for practitioners in the cloud computing industry. By verifying cloud expertise and capabilities, it helps professionals to demonstrate their strengths that can meet market needs fully, and at the same time assists companies through the use of AWS Create an innovative and efficient cloud team. AWS Certification provides various certification exams designed to help individuals and teams achieve their specific goals based on roles and professions. In addition, trainees can prove their AWS cloud skills and improve their credibility by obtaining certificates recognized by the industry.

At present, AWS still holds the highest market share in the global cloud computing market, and many large multinational companies are using cloud services provided by AWS. Some companies that rely on AWS as their main cloud platform, even technical personnel, must pass the AWS certification exam. When looking for a job, having an AWS certification can show your potential employers your skills and increase your attractiveness as a job seeker. Therefore, if you are interested in technology, sales, etc., obtaining AWS certification will be of great help to you in cloud computing-related fields.
AWS is a massive platform that necessitates a thorough understanding of application deployment and cloud management. In addition, AWS has well over 100 services, and new ones are launched regularly.
Each service has its jargon, user interface, and set of CLI commands. To master any AWS service, you must first master the fundamentals. You're doomed before you've even started if you don't know what VPCs, regions, AZs, and security groups are. You can only go so far by studying and regurgitating data. If you want to get certified in AWS, you'll need to be well-versed in the platform.
However, even if you are a "dummy", there is no need to be scared away.
Till now, the AWS Certification certification system includes four major modules (Professional, Association, Foundation, Specialty) and 11 certifications, applicable to the four identities of cloud practitioners, architects, operation and maintenance personnel, and developers.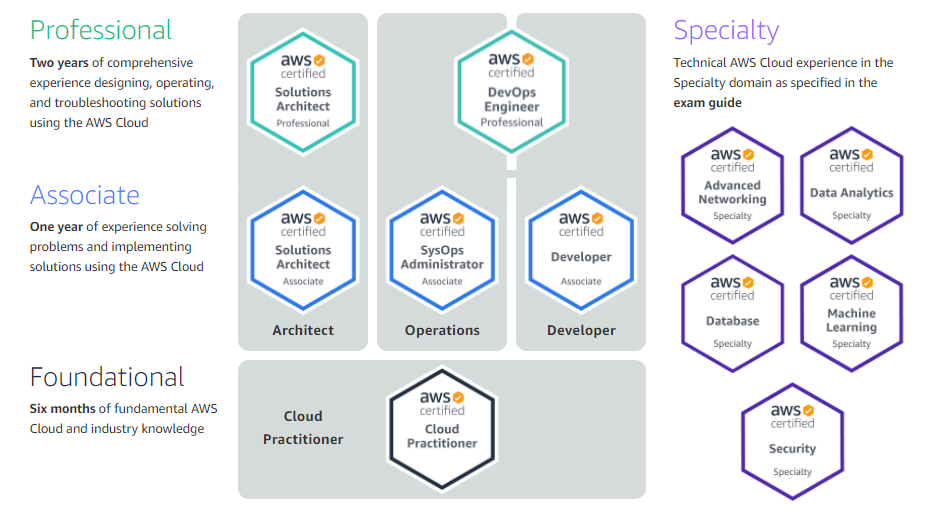 And there is a foundation certification as the entry level — AWS Certified Cloud Practitioner
The Cloud Practitioner Certification is a new exam launched at the end of 2017. This exam is the easiest of all exams. It is mainly for those who want to have a preliminary understanding of cloud computing and Amazon AWS. It is especially suitable for those who don't know anything about AWS and non-IT industry practitioners. Its exam content includes cloud computing concepts, security, technology, and billing and pricing. After understanding this content, you will have a preliminary introduction to AWS and understand most of the cloud computing frameworks in the industry.
Six months of experience with AWS in any role, including "technical, managerial, sales, purchasing, or finance," is recommended by AWS. This is an excellent indicator of who should take the exam – practically anyone who has a stake in the outcome. But, of course, engineers aren't the only ones.
Do you have years of networking experience as an IT engineer? This exam will not be complicated. There are some new terms, but they all connect to something you already know – S3 stands for file storage, EC2 stands for virtual machines, RDS stands for databases, and so on. You might be yearning to advance to Associate status. With this Foundational certification, however, the prevailing consensus is to grasp the basics first.
Maybe this is your first IT job, and you're still learning the ropes. This certificate is an excellent place to begin. There will be a lot of fresh material. Go over the content, create a free AWS account to practice with, and have fun getting your hands dirty. You'll be up to speed in no time.
Are you not in the IT field? Without a doubt, you're fighting an uphill struggle. While there is a lot to learn, the good news is that the content can be applied to sales, finance, management, and other fields. For example, how can a HA app be an excellent business victory, or why this new large monthly bill is worth it?
If you're brand new to AWS, you'll need to put in the effort to learn the ins and outs of the platform. However, if you've dabbled in cloud technologies and AWS (even in a free tier), this will most likely be the most straightforward certification to obtain on this list.
Conclusion:
Is AWS certs hard? The answer is "YES", for there are various levels of certifications for IT engineers with years of experience and newbies of IT industry. And most of them need the candidates have certain technical skills and the ability to solve certain problems.
Is getting a AWS certification hard? The answer will be "NO", like it mentioned above, AWS provides foundation certification: AWS Certified Cloud Practitioner for the new starters.It should be noted that only those who have not taken any other AWS-level exams can take this exam.
After getting the AWS Certified Cloud Practitioner, you may want to go deeper.
Associate:
AWS Certified Solutions Architect - Associate
AWS Certified Developer - Associate
AWS Certified SysOps Administrator - Associate
Professional:
AWS Certified Solutions Architect - Professional
AWS DevOps Engineer - Professional
Specialty:
AWS Certified Advanced Networking
AWS Certified Big Data
AWS Certified Security
AWS Certified Machine Learning
AWS Certified Alexa Skill Builder
No matter what certification you choose to get. SPOTO provides all kinds of AWS certification exam dumps. SPOTO covers 100% real exam question and answers with 100% pass rate guarantee.