2021 Top Rated CompTIA A+ Certification Books
---
|

Posted on: 2021-06-25

|
Views: 336
|
Category:
---
Introduction:
Are you planning to change your career path? Otherwise, you are preparing to start your career in the IT field. You may be confused about what to try and where to start. Many starters and senior IT engineers recommend CompTIA A+ because CompTIA A+ provides a reliably solid and basic foundation for future IT endeavors.
CompTIA A+ can forge the foundation of your IT career. As the qualifying credential for technical support and IT operational roles, it is preferred by a large number of people. Here are some aspects you need to prepare if you intend to take the CompTIA A+ exam:
lTroubleshooting and problem-solving
lUnderstanding a wide variety of issues ranging from networking and operating systems to mobile devices and security
lThe ability to connect users to the data they need to do their jobs regardless of the devices being used

1.
CompTIA A+ Certification All-in-One For Dummies (For Dummies (Computer/tech)
I assume you already know or heard of the Dummies series of books. The reputation of Dummies series is known to take the total beginners in whatever subject and try as much as possible to reveal it as much as possible. To start with the very basics in the CompTIA A+ Certification, you'll be sure to grasp networking and computer repair to troubleshooting, security, permissions, customer service in a crisp and simple language. Some of the content of the book include:
lPreparation for the CompTIA A+ exam with a review of the types of questions you may encounter on the actual test
lAdvice for the test-taking on the big day
lNice and easy-to-read graphics showing the thousands of parts of the computer
lTopics ranged from inside and outside the box, maintenance, troubleshooting, operating systems, system recovery, networking, and security.
lThe help of online testing bank that gauges your knowledge and tells you where you had better spend more efforts and need more study help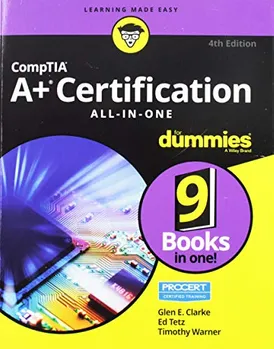 2.
CompTIA A+ Certification All-in-One Exam Guide, Tenth Edition (Exams 220-1001 & 220-1002) by Mike Meyers
CompTIA A+ Certification All-in-One Exam Guide provides complete coverage of CompTIA A+ exams 220-1001 & 220-1002. This self-study book is accompanied by a CD and has been thoroughly updated to cover the exam objectives on the 2015 CompTIA A+ exams. New topics like managing and maintaining cellular devices, including tablets, configuring operating systems, including Windows 8, Android, and iOS; and enhanced mobile-centered security and troubleshooting procedures. The electronic content of this book includes:
lPractice exams for both exams with hundreds of accurate practice exam questions
lOnline video training for over an hour featuring Mike Meyers
lOnline performance-based simulations which prepare you for the performance-based exam questions
lA link to Mike's favorite PC tool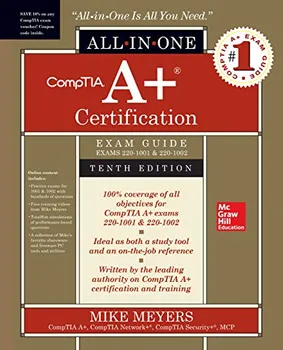 3.
CompTIA A+ 220-901 and 220-902 Exam Cram 1st Edition by David L. Prowse
There are many ways to pass the CompTIA A+ exams. This book by David L. Prowse will help you succeed. The book covers every topic and includes practice questions. This includes extensive new coverage for Windows 8/8.1, new hardware, tablets, smartphones, and OS X. It also covers professional-level networking security and networking. There are also well-organized preparation tools, including Exam Alerts, quizzes, Exam Questions, and our amazing last-minute Cram Sheet. Additionally, you will find two complete practice exams in both the printed book and two additional exams in Pearson's test engine. You can also get feedback and practice in real-time with Pearson's state-of-the-art test engine. Below is a list of the available repertoires:
lThis guide contains all the important information you need to succeed on your A+ 220-901 or 220-902 exams.
lManage and deploy desktops and notebooks that run Windows 8.1/8/7, Vista, OS X, or Linux
lLearn and practice the six-step A+ troubleshooting process
lLearn how to install, configure, troubleshoot, and troubleshoot memory, CPUs, as well as motherboards and processors.
lTroubleshoot and test power-related issues
lAll storage types are acceptable, including SSDs and Blu-ray devices as well as RAID systems.
lYou can work effectively with mobile devices including iOS, Android, and Windows tablets and smartphones
lBoth internal and visible components of a laptop can be installed, configured, and troubleshot.
lConfigure Windows components, applications, and use Windows administrative tools to optimize Windows systems
lRecover damaged Windows environments or boot errors
lUse audio and video subsystems, new peripherals, and I/O devices to work with
lManage and install both network and local printers
lUnderstanding and working with networks, network hardware, and wireless protocols.
lConfigure SOHO wired/wireless networks and troubleshoot connectivity
lProtect desktops and mobile devices with authentication methods.
4.
Complete CompTIA A+ Guide to IT Hardware and Software (7th Edition) standalone book (Pearson IT Cybersecurity Curriculum (ITCC)) 7th Edition by Cheryl A. Schmidt
Do you want to do all that you know about software and hardware installation, configuration, maintenance, and repair? Prepare for CompTIA(r), A+ 220-901 & 220-902 exams.
This comprehensive textbook and lab manual teaches you how to manage and connect multiple devices in real IT situations. The CompTIA A+ Complete Guide to IT Hardware and Software will give it to you in incredible gulps. This comprehensive instruction is based on CompTIA A+ 220-901 exam objectives. It also covers Linux, Mac, mobile, and cloud. There are also expanded troubleshooting tips and security. All these review and study tools will help you learn faster.
lThe Learning Objectives give the goals for each chapter. Additionally, A+ Cert Exam Objectives open lists for chapters to ensure that these topics are covered thoroughly.
lIn a new full-color design, hundreds of images, figures, and tables are available to help you summarize and present information visually.
lPractical Tech Tips offer real-world IT support knowledge
lEach chapter contains best practices in Soft Skills and team-building activities.
lReview Questions include true/false and multiple-choice questions. They also allow you to assess your understanding of the learning objectives.
lThere are hundreds of activities that will help you reinforce and apply the content in your chapter. You can also "flip" the classroom, if necessary.
lYou can connect theory and practice with more than 140 Labs
lKey Terms are the keywords and phrases that go along with each topic.
lThe Detailed Glossary clearly defines each key term
lDozens upon dozens of Critical Thinking Activities will help you understand topics and go beyond the facts.
lThe Chapter Summary summarizes key concepts and provides an overview of the chapter.
lThese Certification Exam Tips offer insight into the preparation and exam.
5.
CompTIA A+ Complete Study Guide: Exams 220-901 and 220-902 3rd Edition by Quentin Docter (Author), Emmett Dulaney (Author), Toby Skandier
It is a wonderful way to learn the basics of skill by reading a guide. CompTIA A+ Complete study guide covers Exam 220-901 & Exam 220-902. This guide will help you understand IT basics and demonstrate your knowledge effectively. You will be able to confidently take the exam if you have done enough practice and preparation. The following summarizes what you'll find in the book.
lCheck out the components of laptops, personal computers, and other portable devices.
lUnderstanding operating systems, networks, and security
lLearn more about safety and environmental issues
lEffective communication is key to professionalism
6.
CompTIA A+ Practice Tests: Exam 220-901 and Exam 220-902 1st Edition by Quentin Docter
There are many ways to prepare for exams, especially if you have a study guide or a good understanding of the subject. It is a better idea to take as many practice tests as possible. CompTIA A+ Practice Exams: Exam 220-901 & Exam 220-902 have well-written questions and detailed answers to give you the confidence that you will pass exam day. These tests are carefully selected to assess a candidate's proficiency with various software operating systems and hardware components. The nine practice tests, totaling 1,020 questions, cover the nine CompTIA-A+ objectives you will encounter in Exam 220-901 or Exam 220-902. Here's what you'll get:
lThe practice questions cover all aspects of the exam objectives.
lThis is a great study companion for anyone who renews their certification or takes it for the first time.
lThese 1,200 questions can be divided into nine full-length exams.
lComplements CompTIA A+ Complete study guide