Roadmap : A guide on IT Certifications !
---
|

Posted on: 2021-07-07

|
Views: 333
|
Category:
---
The Information Technology industry creates a lot of attractive job opportunities. And if you want to get a job in IT industry, a certifications will be a good way to present your qualification to the employers. If you are already in a IT role, professional or advance certification will give a boost to your career, and if you are a starter a certification will give you a proper guidance and equip you with necessary skills.
But, you may wonder how to start, or which certification to take first. In this article, we'll discuss the Roadmap of getting IT certifications.

IT certification paths
Here's a list of some of the most popular IT certifications organized by role.
Keep in mind that the certificates you earn don't have to come from the same company. Depending on what you want your career to look like and what skills you want to learn, you can get certifications from a variety of sources. This list is intended to serve as a guide to help you get a sense of what certifications are available; it is not a comprehensive list of all certificates. There may possibly be additional qualifications that aren't included that are more suited to your needs.
Foundational certificates: Foundational certifications are those that are designated as entry-level or for early-career professionals by providers.

Professional certificates: These are credentials meant for persons with some experience who want to advance in their careers.

Advanced certificates demonstrate a high level of expertise in the subject, or expertise in a specific area within the field.
Help desk certifications
Many IT jobs begin with help desk support positions, which provide technical assistance and solve a variety of computer issues to a company's employees. IT support technicians, help desk technicians, IT associates, and other similar titles may be used to describe these professions. One of these positions may be open to you if you have an entry-level qualification. You can acquire a more advanced help desk certificate after that, but many people want to move into a more specialized profession in IT.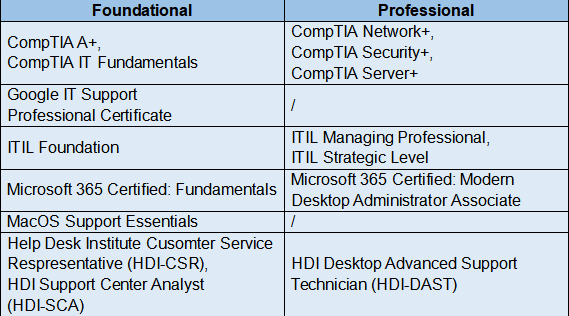 Note that the Google IT Support Professional Certificate is not a certification in and of itself (though you will receive a professional certificate from Google upon completion), but it will prepare you for the CompTIA A+ test if you decide to take it.
Server and network certifications
IT employment entails troubleshooting and maintaining computer systems, servers, and networks. These certifications can help you get started or advance in your career in one of these fields.

Cloud certifications
According to a survey done by Global Knowledge, cloud computing has become one of the most in-demand IT skills in recent years. The following certificates can help you learn the fundamentals of cloud computing and prepare you for more advanced responsibilities.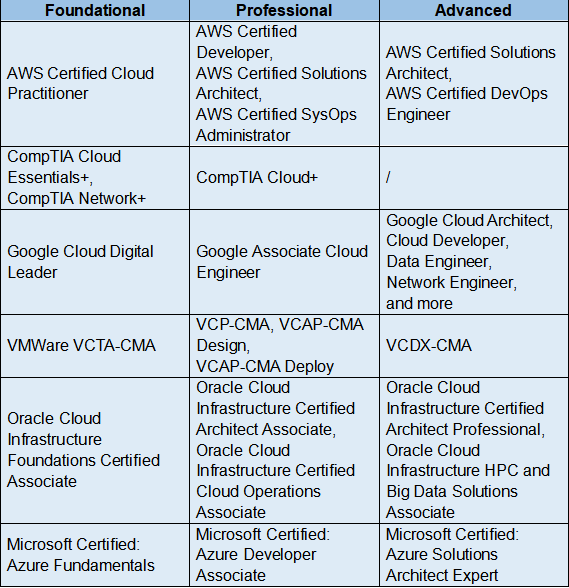 Security certifications
Cybersecurity, along with cloud computing, is one of the most in-demand fields in IT, according to Global Knowledge. Certifications can be obtained through vendor-neutral organizations such as CompTIA or ISACA, which means that the material covered in a certification exam can be applied to a variety of operating systems. Vendor-specific certificates, such as Microsoft certifications, are another option.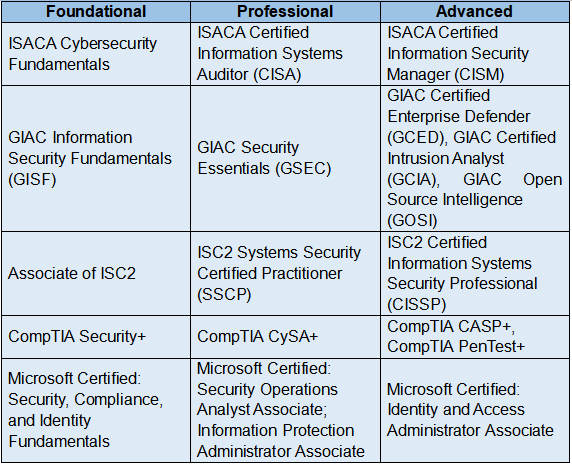 Database certifications
Data professionals in the IT realm can be database administrators, database developers, database engineers, data warehousing specialists, or similar roles. Which database certification you pursue will probably depend on which vendor's database technology you expect to use most heavily. If you're looking for certifications that will show your competency more specifically in SQL, take a look at a more detailed list of SQL and database certifications.


Which certification should I get?

The certification you pursue will most likely be determined by your area of interest in IT, your level of expertise, and the requirements of the employment you're interested in. If you're currently employed in the IT field, you might ask your boss what skills you should master.

If you're new to IT, a certificate that teaches you the fundamentals in a range of IT sectors, such as the CompTIA A+ certification or the Google IT Support Professional Certificate, can be beneficial.
Join our study group to get more IT Certs information and details.