Plan to get AWS Certifications! Where to begin? 4 Basic AWS Certifications for Starter!
---
|

Posted on: 2021-07-05

|
Views: 397
---
What is the first level of AWS certification?

If you're thinking about getting Amazon Web Services (AWS) certified, it would be terrific.

Many of the world's largest corporations now run part or all of their software environments on Amazon Web Services (AWS), and the number of companies migrating to AWS is growing every day. As a result, acquiring an AWS certification might be a very sensible investment if you're looking for a new IT job, a new role in your present firm, or just want to continue to advance in your current position.
Where do you begin, though? What is Amazon Web Services (AWS)? Which AWS cloud certification path is best for you to take? What certifications are required for which jobs?
The Amazon Web Services (AWS) certification system
AWS presently has 12 certifications available, comprising six core and six specialist certificates. AWS divides its fundamental certifications into three levels, beginning with Foundational and progressing to Associate and Professional certifications. The graphic below depicts how AWS handles certification relationships at each level.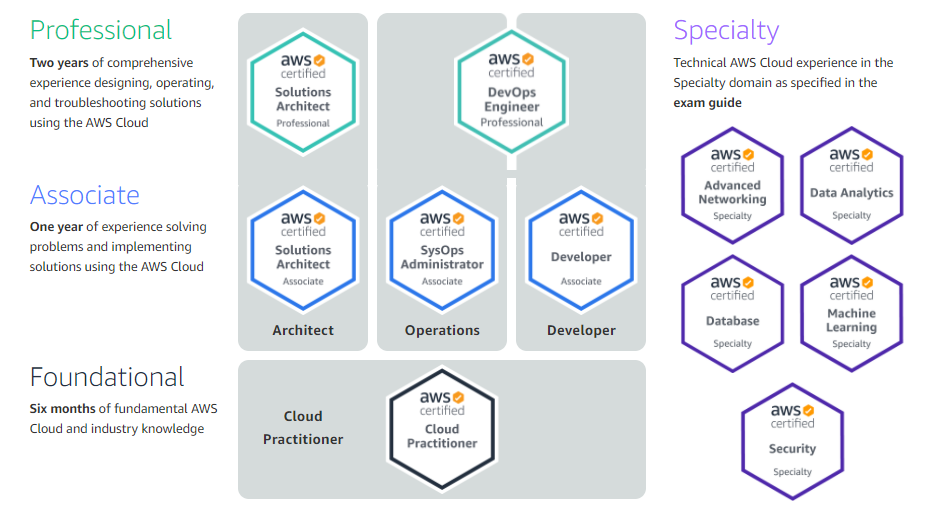 The essential ideas of the AWS Cloud platform are covered in this foundational AWS exam. You'll be asked questions about AWS's most important services and capabilities, as well as business use cases. The exam also asks you to demonstrate a working grasp of AWS billing, support, and pricing, as well as AWS security and compliance principles. Questions on installing resources and services in the AWS Cloud should also be expected.
This certification is ideal for anyone in a non-technical capacity who requires a basic understanding of the Amazon Web Services platform. When discussing a customer's AWS investments, IT salespeople, for example, can learn to talk with confidence and authority, and it can also help those in finance, management, and business roles communicate more clearly with their IT colleagues.
Before taking this exam, Amazon recommended that you have six months of AWS experience in any capacity, including technical and non-technical roles (e.g., sales, management, finance). In practice, the amount of time you spend studying and reviewing (at least six hours) is considerably more important for passing this exam.
This is the certification you'll need to demonstrate your understanding of how to create and deploy systems on the AWS Cloud. This exam will test your knowledge of architectural best practices and will ask you questions regarding cloud-based solutions for deployments with rigorous requirements. You'll need a lot of knowledge with AWS computing, network, storage, and database services to deploy, configure, and manage them. I also recommend that you have a working grasp of AWS security and compliance policies before taking this exam.
AWS recommends spending at least a year utilizing AWS cloud services to deploy distributed systems at scale.
This AWS exam assesses your ability to create AWS Cloud-native applications. You must demonstrate your ability to communicate with and optimize the AWS services that you developed into an application using the AWS SDK. A functional understanding of code-level security methods, such as credential creation and encryption strategies, is also required to pass this exam.
To take this test, AWS recommended that you have at least a year of experience maintaining apps in the AWS Cloud. You should also be familiar with the AWS platform's basic services, principles, and best practices, as well as some experience developing applications using technologies like Amazon DynamoDB, AWS Elastic Beanstalk, and AWS CloudFormation (among others)
Examine your ability to deploy, administer, and operate system resources in the AWS Cloud, as well as your knowledge of how to move on-premises workloads to the cloud. You should know how to manage cloud systems so that they are both fault tolerant and highly available. You should also be able to match resource allocation to requirements and care for operational considerations like security and cost control.
At least a year of expertise maintaining AWS-native applications is required. You'll also need some expertise gathering requirements and adhering to AWS best practices for deployments and project management.
These four AWS certifications are the most easiest ones. It is recommended that you take AWS Certified Solutions Architect - Associate, AWS Certified Developer - Associate, and AWS Certified SysOps Administrator - Associate in order (AWS Certified Cloud Practitioner is not included because it isn't terribly useful for anyone in a technical role). For technical roles, taking AWS Certified Solutions Architect - Associate as the first AWS exam is recommended because this certification also covers topics that will appear in the Developer and SysOps Administrator examinations, so it's a good investment for anyone expecting to take all three.
After getting these three certifications, you may choose one of the specialty AWS certifications that interest you.
lAWS Certified Database - Specialty
lAWS Certified Advanced Networking - Specialty
lAWS Certified Security - Specialty
lAWS Certified Machine Learning - Specialty
lAWS Certified Alexa Skill Builder - Specialty
lAWS Certified Data Analytics - Specialty
Then you may step on the journey of getting professional AWS Certifications.
lAWS Certified Solutions Architect - Professional
lAWS Certified DevOps Engineer - Professional
SPOTO Courses is the best path for you to prepare for your exam. With 18 years of IT training exam, we provide professional guidance by tutors. No matter which exam you're preparing, we offer 100% real exam questions and answers, and we guarantee 100% pass rate. Contact us Now!