Release Now: SPOTO CCNA Online Training Presale
---
|

Posted on: 2021-05-19

|
Views: 613
|
Category:
---
The Cisco certification program offers a path for anyone with career aspirations in technology and enables IT careers for people globally and from every walk of life.
From Networking Academy students just starting to seasoned professionals ready for CCIE, Cisco certification brings valuable, measurable rewards. With Cisco certified, candidates can either get a career boost or the skills they need to flourish.
Still, doubt how to get Cisco certified or no ideas how to get started? SPOTO is going to launch
The CCNA training, helping you to ace the CCNA exam. Besides, our CCIE EI Lab training course that launched last year is liked by many learners. Invest in SPOTO IT training and certification prep now to ensure your capacity meets today's challenges and prepares for the future.
With 18+ years of experience in IT training, SPOTO has successfully helped 2100+ candidates pass the CCIE exam, and numerous candidates pass the CCNA or CCNP exam. If you would like to take any cisco training, SPOTO is your best choice: Experienced CCIE tutors, 18-year professional IT training experience, Support with 30 min response via live chat.

SPOTO CCNA Online Training Presale
Whether you are preparing for CCNA or building your career for networking technologies, SPOTOS's beginner-friendly CCNA course can help you. With expert instruction from experienced instructors, you can have a comprehensive understanding of the technology and knowledge that CCNA required, getting the certification quickly with this CCNA course, or beginning your IT career.
What Will You Get from This Course?
✓Aligned with the 2021 latest cisco exam course content

✓ Gain hands-on experience through practice project

✓Access to instruction video in line with 100% real exam question
Who Can Take This Course?
*Everybody who wants to prepare for Cisco CCNA 200-301 (New CCNA) exam

*Anyone who needs to build up a career in the networking industry
Book a guaranteed to run cisco training and enjoy the early bird price. The offer ends on May 23, 2021. Contact us now!

SPOTO CCIE EI Training
What's SPOTO CCIE EI Training?
SPOTO CCIE EI training course help candidates improve their skills, implementing core enterprise network technologies including dual-stack (IPv4 and IPv6) architecture, virtualization, infrastructure, network assurance, security, and automation(include SDA SDW Python)
Furthermore, this training with related contents for the new knowledge points of CCIE Enterprise Infrastructure Lab. After training, you will have a solid foundation to pass the CCIE EI Lab exam and advance your career with the latest Cisco technology skills.
What Will You Get from This Course?
SD-Access Training
1、SDA-L1 SD-Access Elementary Course
1.1、Introduce to SDN and Cisco SDN Solution(2 hours)
1.2、SD Access(2 hours)
1.3、SDA Deployment - Single Site (4 hours)
2、SDA-L2SD Access Advanced Course
2.1、LISP(2 hours)
2.2、Segmentation(2 hours)
2.3、Multi-site(2 hours)
2.4、Automation and Assurance(2 hours)
https://www.youtube.com/watch?v=B6gVR0DjYyQ
SD-WAN Training
1、SDW-L1 SD-WAN Elementary Course
1.1、Introduce SD-WAN and Cisco SD-WAN Solution(2 hours)
1.2、SD-WAN Deploy(2 hours)
1.3、OMP(Overlay Management Protocol)explanation(2 hours)
1.4、SD-WAN Data and segmentation(2 hours)
2、SDW-L2 Software Defined Network And SD-WAN Advanced Course
2.1、SD-WAN Lab and ZTP(2 hours)
2.2、SD-WAN Policy(2 hours)
2.3、Route And AAR(2 hours)
2.4、ZBF And High availability(2 hours)
INFRASTRUCTURE AUTOMATION AND PROGRAMMABILITY
1、DEV-PY Infrastructure Automation and Programmability
1.1、Ready(2 hours)
1.2、Interface test basics(2 hours)
1.3、Postman(2 hours)
1.4、Python Interface test(2 hours)
1.5、Extension introduction(2 hours)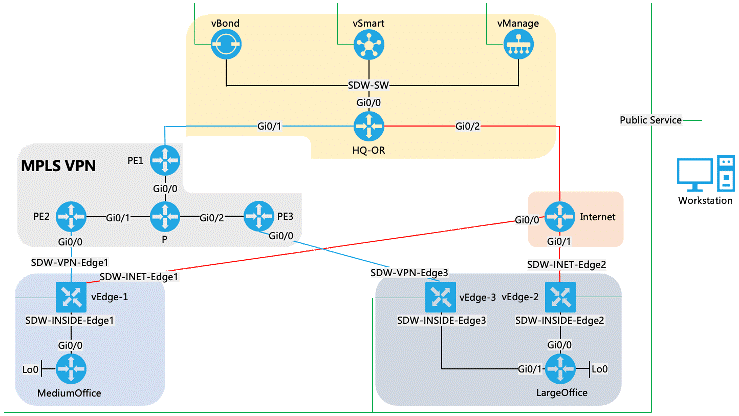 Conclusion
Start your IT career with SPOTO training. For anyone who wants to attain the Cisco CCNA certification or CCIE Lab certification. Get started with SPOTO now and boost your salary.