[Collect Them Quickly] Part 2: Top 5 Must-Read PMP Prep Books
---
---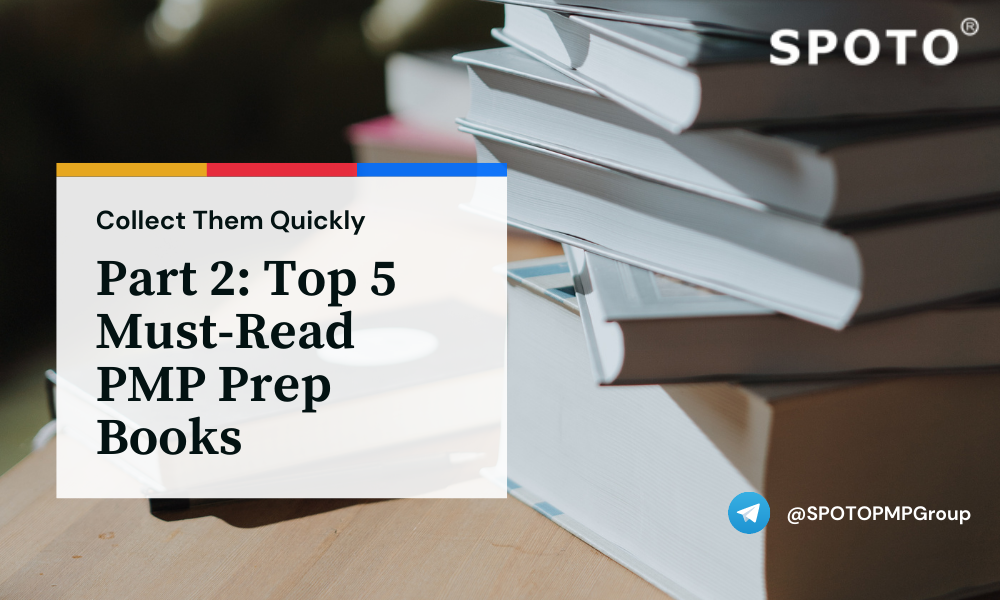 Experiences in project management work alone may not be sufficient for exam applicants to pass the PMP Exam. The PMP certification exam assesses a candidate's theoretical knowledge and practical experience with project management techniques. Even for those with a project management background, it necessitates dedicated and rigorous training. Some of the most excellent PMP Exam study books for 2021 are listed below.

#1 PMP Book – The PMP Exam: Quick Reference Guide Test Prep series by Andy Crowe
Get the PMP Certification: Quick Reference Guide if you don't have time to study for the PMP exam. The people that work here performed an excellent job of outlining the main elements you need to know to pass the exam. It's a good idea to have the fast reference guide available shortly before the exam. Because it allows you to concentrate on the essential facts for review, this pre-test book is long-lasting, convenient, and cost-effective. Your time is a precious commodity. This reference guide is well worth your money if you are working on your PMP assignment.
Related Article: [Collect Them Quickly] Top 5 Must-Read PMP Prep Books for PMP Study
#2 PMP Book – Cynthia Snyder Stackpole's PMP Certification All-In-One: Desk Reference For Dummies
After passing the PMP test on your first attempt, you'll be grateful to Cynthia Stackpole for writing this book. The information supplied here is unusual in that it is organized so that it is processed through the functional method that projects are designed to work rather than through the PMBOK. Because the material is well-established and follows a logical order, you can understand it right away. This ensures that you are familiar with the PMP methods and materials required for certification. Reading this and taking the valuable test questions is well worth the money and time.
#3 PMP Book – Perfect Practice Makes Perfect
This PMP book has approximately 1000 practice questions and answers, prepared by John Estrella, Charles Duncan, Sami Zahran, and James Haner. It also comes in helpful for reviewing your knowledge and keeping your attention on the areas that need to be improved. The test is remarkably close to the contents of this PMP exam preparation book, which gives you a lot of bang for your buck. In terms of difficulty, scope, and drafting, and this book will be an excellent companion to all of your other materials.
#4 PMP Book – Joseph Phillips' CAPM/PMP Project Management
The information in this PMP book is comprehensive and easy to understand. You'll start to gain greater self-assurance. The first feelings of annoyance and anxiety will begin to fade, making the exam appear more manageable. The author's writing and coordination style keep the reader interested. This edition succeeds in organizing the PMBOK's dense information into a more understandable manner.
#5 PMP Book – Andy Crowe's All-in-One PMP Exam Prep Kit – Test Prep series
This product makes studying for the PMP exam a lot easier. It's a fantastic package that includes everything you'll need to ace the PMP exam. It is well-organized, and it clearly defines the critical components of each knowledge and process area. At the end of each chapter, there are examinations with 20 questions about the topics. You will also receive a complete practice exam. Those who already understand the principles and standards can use the PMP preparation book to test their knowledge and practice exam questions. Although it is suitable for semi-prepared pupils, it is not as advantageous to those who are attempting to learn the framework.
Conclusion
Many PMP® candidates are under the impression that the PMP® exam is all about the PMBOK® Guide. Reading the PMBOK® Guide alone will not prepare you for the PMP® exam. It would be best to use the most excellent PMP prep book to do well on the PMP certification exam. The book should make it simple to understand concepts and provide sample questions for you to practice with.
You can take SPOTO PMP training courses and practice with the latest exam dumps in addition to the PMP Prep Books to help you prepare for the final PMP exam.