How to Get 35 PMP Exam Prep Contact Hours?
---
---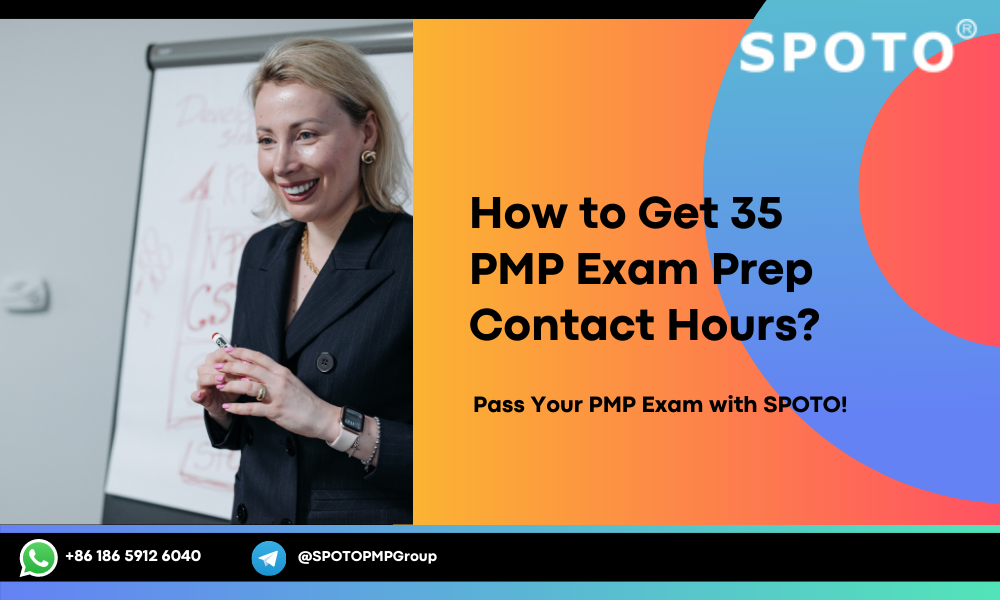 Before sitting for the Project Management Professional (PMP) test, the Project Management Institute (PMI) requires 35 hours of formal project management education, or "contact hours." Every hour you spend in a class, training program, seminar, or other similar learning activity counts as one contact hour toward your overall learning goal.

This criterion can be a source of much consternation and stress. You may be asking how to ensure the validity of your PMP 35 contact hours or the most effective method for obtaining the 35 contact hours of professional project management education. The SPOTO's professionals are available to assist you.

How can you know if you're ready to take the real PMP® test?
Look at your mock exam results! You're ready to take the exam now if you can get a score of more than 75% on quality mock exams.


Try out the Free & Latest PMP practice exam!

Want more Free PMP Exam Practice Tests? Contact us!
What Counts as a Contact Hour?
Contact hours are only available for instructional training that is directly relevant to project management performance. This includes classroom training, online or virtual training, workshops, and seminars on project management. While an MBA does not automatically satisfy the 35 contact hours requirement, you can document and earn credit for each relevant class.
PMI audits applications at random, so be prepared to give documentation for each contact hour if necessary. This is simple if you enroll in online or in-person training sessions provided by PMI Authorized Training Partners (ATPs). PMI evaluates and approves ATPs, ensuring that you will get excellent, certified instruction to meet your 35 contact hours.
What Doesn't Count as a Contact Hour?
Any training that is not directly relevant to project management is ineligible, even if it teaches other necessary skills and information. For example, while courses on leadership abilities are beneficial, they do not count toward official project management education hours.
Exam simulators and self-assigned study hours are also excluded; while you should study The PMBOK Guide, this alone will not prepare you to sit for the PMP exam. The good news is that your contact hours will never expire! Even if you worked many years ago, your hours still count.
Why Is It Critical to Complete the PMP 35 Contact Hours?
The 35 contact hours can be used to renew or upgrade your skills. While having active project management experience is advantageous, it does not guarantee that you have been trained in PMI-approved project management practices or are prepared to sit for the PMP exam. Obtaining 35 contact hours of formal project management education provides you with an opportunity to ensure your knowledge is current.
Additionally, these 35 contact hours provide an opportunity to study for exams. For instance, SPOTO's online boot camp courses are designed to equip students with the information, skills, and resources necessary to pass the PMP test. In addition to fulfilling the PMI-required 35 contact hours as an ATP, our instructors explain complicated PMP exam subjects in an engaging manner.
You can make strategic use of your contact hours as you study for the challenging PMP exam. Completing the contact hours needed before beginning exam preparation lays a solid basis for the remainder of your education. In comparison, if you schedule these contact hours to coincide with your exam, you can receive a review of PMI-approved materials.
Classroom training. Access a comprehensive, interactive learning experience and a supportive community. Certain types of classroom training are more general, while others are specifically geared for test preparation.
Online training. Take your classes remotely if that is more convenient for you. Before giving your contact hours certificate, verify that your online course assesses your knowledge; this is necessary for online programs.
Consult your local chapter of the PMI. As a member of a PMI chapter, you have the opportunity to attend courses, conferences, and chapter dinner gatherings. Dinner meetings count toward contact hours only if they include at least one hour of learning activity, such as a seminar.
Consult community colleges in your area or online. Numerous community colleges offer project management courses that satisfy the need for contact hours.
How to Earn the Required 35 Contact Hours for the PMP?
There are numerous ways to meet your 35 contact hour requirement. The most straightforward and strategic approach is to enroll in boot camp training, such as those offered by SPOTO. This ensures that the content and training are of the highest quality and are PMI-approved. Consider the following other options:
Finally, what matters most is that you receive a quality education that is aligned with the most recent PMP exam content and structure and documentation in case you require it.
Are you unsure how to begin fulfilling your 35 contact hours? SPOTO's professionals have created online courses that incorporate all of the benefits associated with project management education and more. These courses satisfy the PMI's 35 contact hour requirement, are delivered by certified teachers, can be accessed from any device, and have a 100 percent money-back guarantee.
Along with the PMP training course, SPOTO offers PMP test dumps, application, and recertification services to ensure you pass the PMP exam on your first attempt!