Which Certification Is Best for You: PRINCE2, ITIL, or PMP?
---
---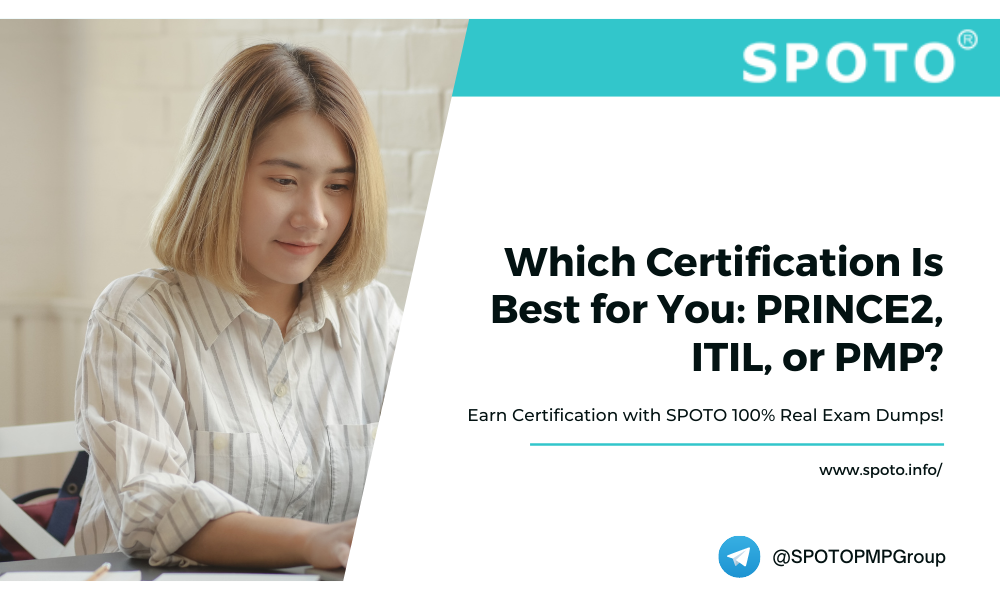 What are PRINCE2, ITIL and PMP?
The acronym PRINCE2® refers to Projects IN Controlled Environments. The acronym ITIL® refers to the Information Technology Infrastructure Library®. The acronym PMP® refers to Project Management Professional.

Who is the owner of PRINCE2, ITIL, and PMP?
The whole Best Management Practice portfolio, including Prince2 and ITIL, is currently owned by AXELOS. The Project Management Institute (PMI)® owns the PMP.
Related Article: PMP Vs. PRINCE2-Which One Should I Take?
How do you obtain PRINCE2, PMP, and ITIL certifications?
All three provide certification programs toward which you can work. PRINCE2 has three levels: Foundation, Practitioner, and Professional. ITIL certifications are divided into four levels: Foundation, Intermediate, Managing Across the Lifecycle (MALC), Expert, and Master. While the Project Management Institute offers various certificates, the most popular of which is the PMP, they do not divide them into degrees of expertise.
How do individuals and organizations use them?
PRINCE2 and PMP have been designed to manage projects and improve project performance as two of the world's most recognized projects management methodologies today. A project is a one-of-a-kind, transitory event with a set start and end date if you're new to project management. A project can be almost anything. It could be a home task, such as planting a garden; a physical one, such as constructing a school; or a more abstract task, such as organizing and holding a conference.
ITIL is the world's most well-known framework for IT service management. It's essentially a set of best practices that guides an organization's development, delivery, and management of IT services.
What are the differences in the approaches of the three qualifications?
PRINCE2 is a process-based methodology that provides precise, step-by-step direction on delivering a successful project using well-defined processes, phases, and templates.
The PMP exam is based on the PMI's A Guide to the Project Management Body of Knowledge (PMBOK® Guide). The PMBOK® Guide teaches you how to manage projects using tools and approaches.
ITIL is a process-based framework that comes from the same stable as PRINCE2. Its goal is to enable you to better how IT is delivered and managed within an organization. You may increase efficiency, effectiveness, quality, and cost management by using ITIL. ITIL is generally used for IT, but organizations rapidly realize that it can be utilized for many reasons in some environments. According to Computer Weekly, CERN, the location of the Large Hadron Collider, uses ITIL for non-IT situations.
What is the market value of each qualification?
PRINCE2 became the de facto standard in the UK as part of a suite of best practice products developed by the Office of Government Commerce. Still, it is also recognized and valued internationally for its practicality and scalability, with a strong presence in Europe, Australia, and other non-North American countries.
PMI qualifications have their beginnings in the United States. Therefore, the PMP is the most popular certification there. However, the PMBOK® Guide is still highly recognized around the world.
ITIL is widely recognized as an effective and efficient method for identifying, planning, delivering, and supporting IT services in the business.
In fact, demand for these certificates is steadily increasing; for example, more than 1 million PRINCE2 exams have been taken globally, and the qualification's popularity continues to grow.
Which certificates should I get first, and which are preferred by employers?
When deciding which certifications to pursue, you'll undoubtedly examine how each will improve your job prospects.
Different industries frequently prefer one qualification over another. So make sure you complete your homework to better target the industry and employer types you're interested in! You can find out what qualities, skills, and expertise they value by looking at their job advertisements and websites. Once you've completed your primary qualification, you can pursue the others as career goals as time and money allow.
Is it worthwhile to complete more than one?
It is, in fact, on multiple fronts:
PRINCE2 is concerned with the framework for project management, whereas the PMP is involved with the skills and expertise needed by the Project Manager to manage the project throughout its lifecycle. Knowing both would so help you, giving you a more well-rounded approach to project management.
Originally developed as part of a set of best practice products by the UK Government Commercial Office, PRINCE2 has become the de facto local standard. However, it is recognized and valued worldwide because of its practicality and scalability and enjoys a strong presence, particularly in Europe, Australia, and other countries outside North America.
In addition, implementing the PMBOK in a PRINCE2-based business will aid in identifying additional areas that need to be addressed to ensure the project's success, such as the soft skills required, and the PMBOK identifies the gaps in human resource management. Another example is that PRINCE2 provides a comprehensive change management approach, whereas PMBOK only mentions its necessity.
Where is ITIL coming in, then? When you, for example, adopt ITIL within a company, you are effectively working on a project. As a result, project management would make sense.
To ensure the project's success, you should leverage the theories and competencies you received from PMP, as well as the methodology you learned from PRINCE2. It can also be used to: According to PayScale.com, PRINCE2 fetches a good salary, and according to IT Business Edge, both PMP and ITIL are among the credentials that are predicted to stand the test of time. Because none of these certificates covers everything, getting all three will help you become a well-rounded professional in the long term.
Final Thoughts
Any of the three certifications might be chosen depending on the level of knowledge you want to achieve and the market you work in. However, combining two or three of them can be beneficial. They focus on the fundamentals of project management and result in considerable gains in project performance.
Whether you wish to be PMP, PRINCE2, or ITIL certified, SPOTO can help. SPOTO offers the latest and authentic exam dumps, training courses taught by accredited trainers who have years of industry experience to add, and the best services. Therefore, SPOTO is the right way to begin your certification journey with.